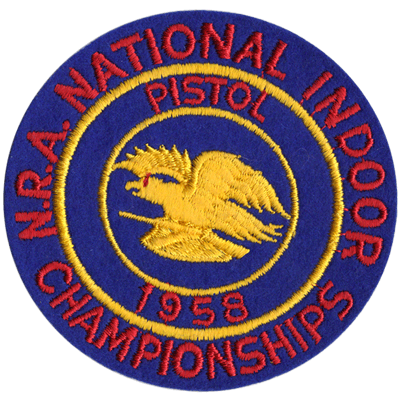 Held at the Navy Advance Base
San Bruno, California
March 1 and 2, 1958
MTU Pistoleers Top Indoor Matches
Marine MTU pistol shooters topped competitors in the 1958 Sectional Indoor Pistol meet at the Navy Advance Base, San Bruno, Calif., March 1-2 as rifle marksmen of the MTU unit captured all available awards at the rifle indoor match at Burbank.
Pistol and rifle indoor shooters compete throughout the country before scores are tabulated at NRA Headquarters to determine the National Champions.
Captain W. W. McMillan won slowfire competition with 187x200 and missed a "possible" in the timed firing with 199x200. In a three-stage match Capt. McMillan copped first place honors with 296x300.
Rapid fire shooters were led by SSgt. E. S. Sarver with 197x200. In the NRA Building Fund Match Sgt. Sarver fired first with 395x400.
The match aggregate was won by MSgt. J. A. Fowler who fired 864 and the MTU Blue Pistol squad won team honors with 1150.
MCRD Chevron, Friday, March 21, 1958
Individual Championship
Rank
Name
Service Branch/Agency
Slow Fire
Timed Fire
Rapid Fire
3 Stage
Indoor Course
Aggregate
1
Richard Stineman
U.S. Army
Fort Benning, Ga.
-
-
-
-
875
2
Fred A. Grant
U.S. Army
Fort Benning, Ga.
-
-
-
-
875
3
Gasper P. DeFino
U.S. Navy
Camp Matthews, Ca.
-
-
-
-
873
1st
Master
Arthur G. Ogden
U.S. Army
Columbus, Ga.
-
-
-
-
871
2nd
Master
Leslie W. Krueger
U.S. Army
Fort Meade, Md.
-
-
-
-
871
3rd
Master
Joseph C. White
U.S. Border Patrol
-
-
-
-
867
4th
Master
Troy D. Oney
U.S. Army
Fort Benning, Ga.
-
-
-
-
867
5th
Master
Maurice E. Belisle
U.S. Army
Columbus, Ga.
-
-
-
-
867
6th
Master
Offut Pinion
U.S. Navy
El Sobrante, Ca.
-
-
-
-
866
7th
Master
Allyn Z. Clark
U.S. Army
Fort Benning, Ga.
-
-
-
-
865
8th
Master
Marshall Anderson
U.S. Army
Marina, Ca.
-
-
-
-
864
9th
Master
Wm W. McMillan
U.S. Marine Corps
Camp Matthews, Ca.
187
199
182
296
864
10th
Master
David Cartes
U.S. Army
Fort Benning, Ga.
-
-
-
-
864
1st
Expert
G. C. Balcon
U.S. Army
Columbus, Ga.
-
-
-
-
851
2nd
Expert
R. L. Jensen
New Brighton, Minn.
-
-
-
-
851
3rd
Expert
R. Molina
Seattle, Wash.
-
-
-
-
850
4th
Expert
H. W. Brentaall
U.S. Army
Columbus, Ga.
-
-
-
-
850
1st Sharpshooter
Keith V. Loeding
U.S. Air Force
Castle AFB, Ca.

-
-
-
-
835
2nd Sharpshooter
B. J. Scott
Evansville, Ind.
-
-
-
-
834
3rd Sharpshooter
R. G. Harris
Detroit, Mich.
-
-
-
-
832
4th Sharpshooter
J. E. Montagnino
Paterson, N.J.
-
-
-
-
831
1st
Marksman
E. L. Easton
San Jose, Ca.
-
-
-
-
835
2nd
Marksman
R. Zuckereman
Richmond Heights, Md.
-
-
-
-
823
3rd
Marksman
E. F. Wilkinson
San Jose, Ca.
-
-
-
-
821
4th
Marksman
W. G. Wohlfarth
Miami, Fla.
-
-
-
-
819
1st
Unclassified
R. K. Duerr
Fort Lauderdale, Fla.
-
-
-
-
838
2nd
Unclassified
D. G. Baxter
Presidio of
San Francisco, Ca.
-
-
-
-
834
3rd
Unclassified
D. P. Studd
Angola, N.Y.
-
-
-
-
830
4th
Unclassified
G. W. Gottberg
Presidio of
San Francisco, Ca.
-
-
-
-
828
1st
Civilian
Robert L. Stackhouse
Apalachin, N.Y.
-
-
-
-
862
1st
Police
Jimmie Minnick
Portland, Ore.
-
-
-
-
870
1st
Regular Service
Richard Stineman
U.S. Army
Fort Benning, Ga.
-
-
-
-
875
1st
Reserve
Kenneth Cowan
Miami, Fla.
-
-
-
-
860
1st
Collegiate
Frank Savage
Palo Alto, Ca.
-
-
-
-
854
1st
V.F.W.
John C. Forman
Detroit, Mich.
-
-
-
-
859
2nd
V.F.W.
Norman Yates
Geneva, Neb.
-
-
-
-
835
1st
Women
Gertrude Backstrom
Hoquiam, Wash.
-
-
-
-
866
(Source: 1958 NRA National Indoor Championships Official Bulletin)
Match 1 - .22 Caliber Slow Fire
Rank
Name
Service Branch/Agency
Score
1
Wm W. McMillan
U.S. Marie Corps
Camp Matthews, Ca.
187
2
-
-
-
3
-
-
-
(Source: )
Match 2 - .22 Caliber Timed Fire
Rank
Name
Service Branch/Agency
Score
1
Wm W. McMillan
U.S. Marine Corps
Camp Matthews, Ca.
199
2
-
-
-
3
-
-
-
(Source: )
Match 3 - .22 Caliber Rapid Fire
Rank
Name
Service Branch/Agency
Score
1
Edmond S. Sarver
U.S. Marine Corps
Camp Matthews, Ca.
197
2
-
-
-
3
-
-
-
(Source: )
Match 4 - .22 Caliber 3 Stage Indoor (Gallery) Course
Rank
Name
Service Branch/Agency
Score
1
Wm W. McMillan
U.S. Marine Corps
Camp Matthews, Ca.
296
2
-
-
-
3
-
-
-
(Source: )
Team Championship
Rank
Service Branch/Agency
Score
1
U.S. Army 'Gold'
1160
2
U.S. Army 'Red'
1158
1st
Master
U.S. Army 'Blue'
1155
2nd
Master
U.S. Marine Corps MTU 'Blue'


W. W. McMillan, J. A. Fowler, R. O. Jones & E. S. Sarver

1150
3rd
Master
U.S. Army 'Grey'
1149
1st
Expert
Carmel Pistol Club
1131
2nd
Expert
U.S. 2nd Army No. 2
1130
3rd
Expert
U.S. 3rd Infantry 'Blue'
1118
1st
Sharpshooter
Naval Station
1104
2nd
Sharpshooter
University of Wisconsin No. 1
1088
3rd
Sharpshooter
Greater St. Louis
1085
1st
Marksman
U.S. Coast Guard
1038
2nd
Marksman
New Jersey PBA Local No. 107
1027
1st
Unclassified
University of Virginia
1043
(Source: 1958 NRA National Indoor Championships Official Bulletin)
NRA Building Fund Match
Rank
Name
Service Branch/Agency
Score
1
Edmond S. Sarver
U.S. Marine Corps
Camp Matthews, Ca.
395
2
-
-
-
3
-
-
-
(Source: MCRD Chevron)