Held at 'M' Range, Camp Matthews
Sunday, February 8, 1958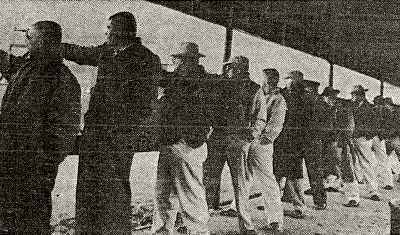 AIM IN - Shooters participating in the Camp Matthews Open Pistol Tournament prepare to fire during one of the 16 matches held Sunday. Forty-three military and civilian sharpshooters participated in the tourney, combating the elements on the cold drizzly day.
Photo by ActCpl. J. A. Reid
MCRD Chevron, Friday, February 8, 1958
Policeman, McMillan Top Shooters
With bad weather hindering scores, 43 civilian and military shooters took part in the Camp Matthews Open Pistol Tournament Sunday on "M" Range.
Leading the civilian competition was Mr. John Hurst of the Los Angeles Police Dept., holding championships previously won in San Diego.
Military top shooter of the day was Captain William W. McMillan, captain of the Marksmanship Training Unit Pistol Team. The captain is the holder of the large bore pistol championship, won at the International Shooting Union Matches held in Moscow last year.
He also won the 1957 National Pistol Championships and the 1956 National Individual Championships at Camp Perry, Ohio.
Capt. McMillan placed first with Mr. Hurst running a close second in the Grand Aggregate match with total points of 2629-118x and 2628-112x, respectively.
Seven members of the Depot pistol team participated in the event.
No team matches were held.
MCRD Chevron, Friday, February 13, 1958
Grand Aggregate
Rank
Name
Service Branch/Agency
.22 Caliber
Center-Fire
.45 Caliber
Score
1
Wm W. McMillan, Jr.
U.S. Marine Corps
Camp Matthews, CA.
-
-
-
2629-118X
2
John W. Hurst
Los Angeles, Calif.
Police Dept.
-
-
-
2628-112X
3
-
-
-
-
-
-
(Source: MCRD Chevron)
.45 Caliber Championship

| Rank | Name | Service Branch/Agency | Score |
| --- | --- | --- | --- |
| 1 | - | - | - |
| 2 | - | - | - |
| 3 | - | - | - |
(Source: )
.45 Caliber Slow Fire Match

| Rank | Name | Service Branch/Agency | Score |
| --- | --- | --- | --- |
| 1 | - | - | - |
(Source: )
.45 Caliber Timed Fire Match

| Rank | Name | Service Branch/Agency | Score |
| --- | --- | --- | --- |
| 1 | - | - | - |
(Source: )
.45 Caliber Rapid Fire Match

| Rank | Name | Service Branch/Agency | Score |
| --- | --- | --- | --- |
| 1 | - | - | - |
(Source: )
.45 Caliber National Match Course

| Rank | Name | Service Branch/Agency | Score |
| --- | --- | --- | --- |
| 1 | - | - | - |
(Source: )
.38 Caliber Championship

| Rank | Name | Service Branch/Agency | Score |
| --- | --- | --- | --- |
| 1 | - | - | - |
| 2 | - | - | - |
| 3 | - | - | - |
(Source: )
.38 Caliber Slow Fire Match

| Rank | Name | Service Branch/Agency | Score |
| --- | --- | --- | --- |
| 1 | - | - | - |
(Source: )
.38 Caliber Timed Fire Match

| Rank | Name | Service Branch/Agency | Score |
| --- | --- | --- | --- |
| 1 | - | - | - |
(Source: )
.38 Caliber Rapid Fire Match

| Rank | Name | Service Branch/Agency | Score |
| --- | --- | --- | --- |
| 1 | - | - | - |
(Source: )
.38 Caliber National Match Course

| Rank | Name | Service Branch/Agency | Score |
| --- | --- | --- | --- |
| 1 | - | - | - |
(Source: )
.22 Caliber Championship

| Rank | Name | Service Branch/Agency | Score |
| --- | --- | --- | --- |
| 1 | - | - | - |
| 2 | - | - | - |
| 3 | - | - | - |
(Source: )
.22 Caliber Slow Fire Match

| Rank | Name | Service Branch/Agency | Score |
| --- | --- | --- | --- |
| 1 | - | - | - |
(Source: )
.22 Caliber Timed Fire Match

| Rank | Name | Service Branch/Agency | Score |
| --- | --- | --- | --- |
| 1 | - | - | - |
(Source: )
.22 Caliber Rapid Fire Match

| Rank | Name | Service Branch/Agency | Score |
| --- | --- | --- | --- |
| 1 | - | - | - |
(Source: )
.22 Caliber National Match Course

| Rank | Name | Service Branch/Agency | Score |
| --- | --- | --- | --- |
| 1 | - | - | - |
(Source: )