Depot's McMillan Wins U.S. Int'l. Pistol Team Post
Captain W. W. McMillan, Jr., the nation's top pistol shot, and a member of MCRD Marksmanship Training Unit, fired a new national rapid fire record over the international match course to win a place on the United States International Rifle and Pistol Team which will compete in Moscow this fall.
His record breaking score of 594x600 was part of the 2355 aggregate which won him first place in the final qualifying match at Ft. Benning, Ga., according to a dispatch received from there this week.
He is the only Marine pistol shot selected as a member of the U.S. Team.
MCRD Chevron, Friday, June 27, 1958
Five Sea Servicemen Cop U.S. Shooting Team Berths
FORT BENNING, Ga. - Four Marines and one Navy man shot their way to berths on the U.S. Rifle and Pistol Team which will compete in the World Championships at Moscow in August.
The Army collected most of the spots, however, as the team went into intensive training before leaving for Europe July 14.
Marine Capt. William W. McMillan was lead selection for the International Rapid Fire Pistol Team as he fired a 2355x2400 aggregate to top his perennial foe, Army MSgt. Huelet L. Benner who had 2345.
SSgt. E. D. Duncan and TSgt. J. E. Hill won the fourth and fifth slots on the 300-meter International Free Rifle Team, while Marine Lt. Frank Briggs was named to the 10-man group.
Earlier Navy CWO Offutt Pinion of San Francisco won a position on the 50-meter Free Pistol Team.
Competitions at the world meet will include firing by the 50-meter free pistol, the International rapid fire, the 50-meter free rifle, the International running deer and the 300-meter free rifle teams.
Navy Times, July 5, 1958
4 MTU Shooters Make US Team, Moscow-Bound
Four Marine shooters, all attached to MTU, have been named to the US team which will compete in the rifle and pistol championships at Moscow next month.
Capt. William W. McMillan, Jr., the nation's top pistol shot, won a place on the pistol team last month at Ft. Benning, Ga., with a 594x600 for a new national rapid fire record.
The US marksmen leave for Europe July 15 and will compete in Germany, Sweden, Switzerland, and Finland before arriving in Russia where the championships will be conducted during the second week in August.
2ndLt. Frank Briggs, former All-American collegiate shooter, and New York State Gallery Rifle Champion (1957) won a place on the 300-meter high-power rifle team along with TSgt. J. E. Hill and SSgt. Emmett D. Duncan.
TSgt. Hill won the National Service Rifle Championship in 1956 and received the Distinguished Marksman Badge that same year.
SSgt. Duncan, a Distinguished Marksman, set a new national kneeling record with a 386 during the Ft. Benning tryouts. The present world record is 385.
LtCol. Walter R. Walsh, Distinguished Marksman, will coach the US team. Two other Marines on the team are Capt. J. E. Riggs, and assistant coach, and SSgt. A. W. Hauser, and assistant armorer.
MCRD Chevron, Friday, July 11, 1958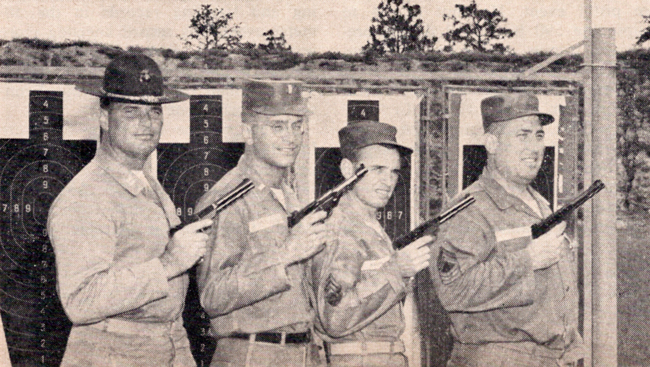 American Rifleman, Vol. 106, No. 8, August 1958
The 25-meter silhouette pistol team: (left to right) Capt. William W. McMillan, Lt. David C. Miller, SFC Aubrey E. Smith, M/Sgt. Huelet L. Benner and SFC William B. Blankenship (not shown)
The U.S. Team For Moscow
Results of the final tryouts at Fort Benning
and the U.S. International Team's plans in Europe
From June 9 to 27 at Fort Benning, Georgia, some of the nation's best shooters competed for places on the International Team which will represent the United States at the International Shooting Union's 37th World Shooting Championships in Moscow, August 17 - 26, 1958. The competitors included 30 U.S. Army, 18 U.S. Marines, three U.S. Navy, eight Border Patrol, two Los Angeles police, one Puerto Rico Air National Guard, and 12 civilian shooters.
At the end of the final tryouts 24 rifle and pistol marksmen were selected, on the basis of performance, by the NRA International Shooting Committee for places on the 1958 U.S. International Shooting Team.
Col. Perry D. Swindler, USA (Ret'd), Team Captain, described the team as "not only the strongest but also the largest" to represent the United States and is confident it will make a good showing in Moscow.
Head Coach Lt. Col. Walter R. Walsh, USMC, stressed the strength of the pistol team, "We've got a great chance this year to beat the Russians."
Record-Breaking tryouts
The final tryouts sponsored by the National Rifle Association and conducted on the Army's Advanced Marksmanship Unit ranges, was a Mecca for record-breakers. National records were set in almost every event.
SFC Nelson H. Lincoln, U.S. Army Advanced Marksmanship Unit (USA AMU), fired a brilliant 563 record score the first day of the 50-meter slow fire pistol tryouts and posted the high total in the four-course aggregate.
His steady-shooting teammate M/Sgt. Roy L. Sutherland, USA AMU, finished second. Olympic medalist CWO Offutt Pinion, USN, made the team despite trigger trouble which plagued him the entire match. Pinion said he ran through five guns during the four-day tryouts. All slow-fire team members used .22 caliber Haemmerli free-pistols.
SFC William B. Blankenship, Lt. David C. Miller, and CWO Victor E. Maass, all USA AMU, round out the slow-fire pistol team, Maass being an alternate.
In addition to Lincoln's 563 new national record, John W. Hurst, Los Angeles policeman, established during the tryouts a new police record with a score of 549. Charles A. Rogler, Perry Point, Maryland, set a new civilian record with 541.
Each of the competitors fired 60 shots a day for four days over the 50-meter slow-fire course.
Veteran international shooter Capt. William W. McMillan, USMC, broke his own record in the 25-meter rapid-fire pistol event. He shot a 594 to eclipse the 590 he scored during preliminary tryouts at Camp Matthews, California, in March.
Olympic medalist and World Champion pistoleer M/Sgt. Huelet L. "Joe" Benner, USA, finished strong, only nine points behind McMillan in the aggregate. Benner fell a point shy of tying the Marine captain's 594 the last day of the tryouts.
Miller and Blankenship 'scored' twice during the tryouts by winning places on the rapid-fire pistol team, also. Miller, Blankenship, and SFC Aubrey E. Smith, USA AMU, fired steady "580" rounds to win berths.
The 25-meter rapid-fire course consists of 12 five-shot strings fired on five silhouette targets, one shot to a target. Four strings are fired in eight seconds, each four in six seconds each, and four in four seconds each.
A national police record was set in the rapid-fire tryouts by Joseph C. White, Jr., U.S. Border Patrol, who registered a 584 score.
Four of the rapid-fire champions used .22 caliber Hi-Standard Olympic pistols during the tryouts.
Excerpt from the American Rifleman, Vol. 106, No. 8, August 1958
Rapid-Fire Pistol Score Board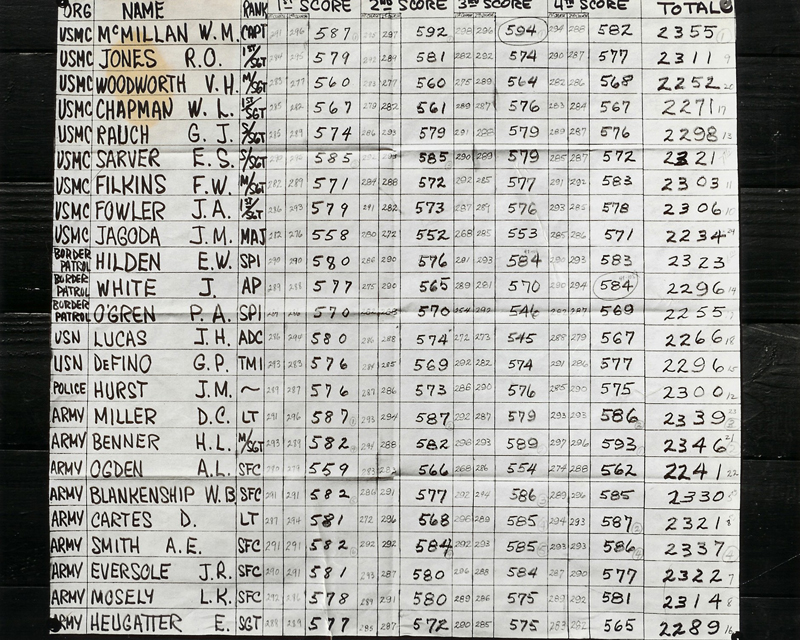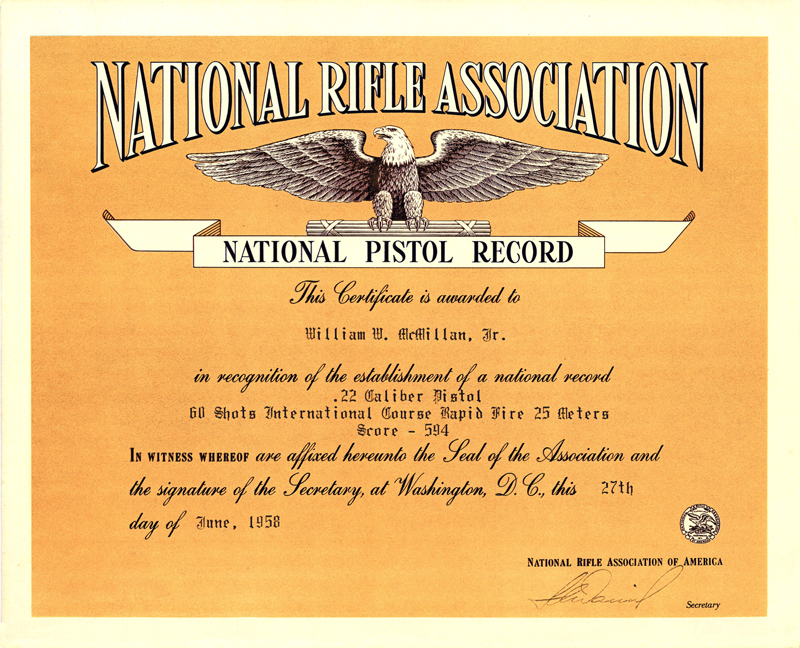 International Course
25 Meter Rapid-Fire
Rank
Name
Service Branch/Agency
1st Score
2nd Score
3rd Score
4th Score
Total
1
Capt Wm W. McMillan, Jr.
U.S. Marine Corps
Camp Matthews, Ca.
587
592
594
582
2355
2
MSgt Huelet L. Benner
U.S. Army
582
582
589
593
2346
3
Lt David C. Miller
U.S. Army
Fort Benning, Ga.
587
587
579
586
2339
4
SFC Aubrey E. Smith
U.S. Army
Fort Benning, Ga.
582
584
585
586
2337
5
SFC Wm B. Blankenship, Jr.
U.S. Army
Fort Benning, Ga.
582
577
586
585
2330
6
SP1 Elmer W. Hilden
U.S. Border Patrol
580
576
584
583
2323
7
SFC Joseph R. Eversole
U.S. Army
581
580
584
577
2322
8
SSgt Edmond S. Sarver
U.S. Marine Corps
585
585
579
572
2321
9
Lt David Cartes
U.S. Army
581
568
585
587
2321
10
SFC Lawrence K. Mosely
U.S. Army
578
580
575
581
2314
11
1stSgt Robet O. Jones
U.S. Marine Corps
579
581
574
577
2311
12
1stSgt John A. Fowler
U.S. Marine Corps
579
573
576
578
2306
13
MSgt Frederick W. Filkins
U.S. Marine Corps
571
572
577
583
2303
14
John M. Hurst
Los Angeles, Calif.
Police Dept.
576
573
576
575
2300
15
SSgt Gerald J. Rauch
U.S. Marine Corps
574
579
579
576
2298
16
SP1 Joseph C. White, Jr.
U.S. Border Patrol
577
565
570
584
2296
17
TM1 Gasper P. DeFino
U.S. Navy
576
569
574
577
2296
18
SGT Emil W. Heugatter
U.S. Army
577
572
575
565
2289
19
1st Sgt Wayne L. Chapman
U.S. Marine Corps
567
561
576
567
2271
20
ADC John H. Lucas
U.S. Navy
580
574
545
567
2266
21
SP1 Presley A. O'Gren
U.S. Border Partol
570
570
546
569
2255
22
MSgt Vernon H. Woodworth
U.S. Marine Corps
560
560
564
568
2252
23
SFC Arthur L. Ogden
U.S. Army
559
566
554
562
2241
24
Maj John M. Jagoda
U.S. Marine Corps
558
552
553
571
2234
(Source: American Rifleman, Vol. 106, No. 8, August 1958)