Held at the Trail Glade Range, Coral Gables, Florida
from March 12 to 15, 1957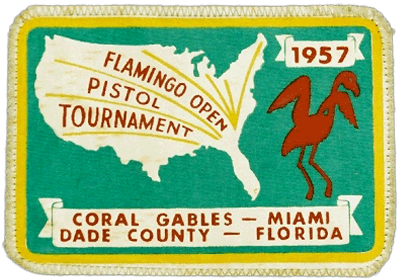 Entry List Restricted For Shoot
Flamingo Matches Draw Overflow Number Of Shooters
Officials of the 20th annual Flamingo Open Pistol championships have been forced to restrict the number of entrants because of an already overflowing entry list of 345 shooters.
The huge handgun match, to be held at the county's Trail Glade range March 25-29, has outgrown that facility, Clem Theed, activity director of Dade County Sports Park association reports.
"The 70-point range will handle only five relays for each match," Theed says.
Headlining the biggest pistol tournament ever held in the area is past world titlist M-Sgt. Joe Benner, West Point arms coach and present national champion, and Marine 1st Lt. William McMillan, the man who outshot Benner in the national individual .45 caliber championships at Camp Perry this summer.
Another contender for top gun is Elmer Hilden of the U.S. Border Patrol Team.
Awards will be made in accordance with three classifications... Civilian, Police and Military, Theed said.
The Miami News, Wednesday, March 13, 1957
Pistol Shoot
Benner Wins In .22 Fire
By JOHN CROUSE
Miami News Sports Writer
Master Sergeant Joe Benner, a near-legendary figure among pistol shooting addicts and currently world's champion, made the first step in the defense of his Flamingo Open Pistol crown yesterday at the Trail Glades range in the first day of the event by piling up 887-41X points out of a possible 900 to win the .22 caliber division.
The easy going handgun whiz, coach of the West Point pistol team, got off to a slow start in the warmup match, the first taking a fourth in the event which was won by Inspector Harry Reeves of the Detroit Police team, another quite famous for his exploits with a pistol.
The first match did not count, however, in the four-match aggregate which was totaled to produce the winner of the Flamingo .22 championship. Benner collected only one first but fired consistently enough to get a third, fourth and sixth place to win.
Over 300 individual shooters plus 50 teams are entered in the shoot. Among them are the All-Army, the Second, Third, Fourth and Fifth armies, the 82nd and 101st Airborne Divisions, the U.S. Border Patrol, Air Force, Navy and Marine Teams.
Also entered are two Cuban teams, the National Police and Army clubs.
Notably absent was the Opa-Locka Marine team that is usually an annual entrant.
Today, the second day of competition will include matches .38 caliber pistol competition only. Tomorrow it will be .45 caliber only with Friday finishing up the big meet with the team championship shoot.
Presley O'Gren of El Paso, Tex., headed up a formidable combine form the U.S. Border Patrol, finishing three points behind Benner with an 884-38X final for the day, good for second place.
Third was a fellow patrolman, W. C. Joyner, who had an 878-38X.
Sgt. J. H. Lingle, Third Army, was top man in the B Expert ratings with an 864-24X; M-Sgt. Sam McClure best in the sharpshooter division, 846-21X; and high shooter in the marksman category was H. J. Zilen who shot a 792-16 aggregate.
The Miami News, Wednesday, March 13, 1957
No Jam, Marine In Lead
By JOHN CROUSE
Miami News Sports Writer
A Marine Lieutenant whose jammed pistol kept him out of the Olympic competition at Melbourne, had it working beautifully yesterday in the second day of the Flamingo Open Postil match. He swept from a first day tenth to take the two-day lead with an eight match aggregate of 1752-81X of a possible 1,800 points.
First Lt. William McMillan, of the San Diego, Calif. Marine Base, overtook the Army's M-Sgt. Joe Benner, who led the first day, by outshooting the West Point Pistol coach by 16 points in the center fire classification.
It placed him four points up on Benner for both days here at the Dade County Trail Glades Range.
Benner finished eighth for the day and now stands third for the first two days of competition.
A pair of steady-handed Border Patrolmen from El Paso, Texas, finished second and fourth to give the indication that as a team the unit is the club to beat in Friday's team championships.
Patrolman Elmer Hilden was second in the so-called 13th match, an aggregation of Tuesday's .22 caliber matches and yesterday's center fire competition, with a 1751-66X. His team mate, William Joyner, was third with has 1740-72X.
The X classification stands for hits within the X ring which is actually a bulls-eye within the bulls-eye.
Lt. McMillan, missed out on the recently completed Olympics after shooting in the 1952 games, because of a jammed pistol in the rapid fire silhouette eliminations.
The Miami News, Thursday, March 14, 1957
Benner Is First In Pistol Firing On Local Range
By JOHN CROUSE
Miami News Sports Writer
Army Master Sergeant, Joe Benner, by profession a West Point pistol team coach and by habit a champion, bounced back from a third place ranking to sweep the .45 caliber and 1957 Flamingo Open pistol tournament individual title for the second straight year.
Benner fired a third day four match aggregate of 867-34X, giving him a total for the three days of 2615-109X of a possible 2700 points, in the match being held at the Trail Glades Range.
It was seven points better that his nearest rival, border patrolman Elmer Hilden, who had a three-day aggregate of 2,608-90X.
Benner, a carefree sort of individual his buddies claim likes to eat better than win medals, has now taken two championships in six days. Last Friday he won the National Midwinter Pistol match held in Tampa.
National Records
In both shoots he set national records. Yesterday his 200-13X in the .45 timed fire course was good for a new mark.
Marine Lt. William McMillan, the man who bumped Benner from his number one spot Wednesday to surge ahead and win the two-day .22 and center fire aggregate, found Benner too tough yesterday.
McMillan, considered to be one of the Marine Corps' two bester pistol shots and national .45 caliber champion, finished third with a 12-match aggregate of 2,603-65X.
Today opens the team matches and the favorite depends on who you talk to. Certainly the El Paso Border Patrol team, with several shooters who have done very well in the individual matches, is the team to beat.
Defending Champs
From there on it appears to be between one of the crack Army teams among which are at least three who are dangerous. The Patrolmen are defending Flamingo team champions.
The All-Army team under Lt. Col. William Hancock, will be one team member shy, since its Sgt. Lonnie Igo had to be taken to Mercy Hospital Wednesday night with an appendicitis attach.
He will have been operated on by the time his team takes to the firing line.
Other winners were Border Patrolman, Bill Joyner, Masters Class; Sgt. John Lingle, Expert Class; M-Sgt. Sam McClure, Paratrooper, Sharpshooter Class; and Commandante Hernani Coto, Cuban National Police, Marksman Class.
The Miami News, Friday, March 15, 1957
Sgt Retains Flamingo Pistol Title
CORAL GABLES, Fla. (Special) M Sgt Huelet L. (Joe) Benner, of the U.S. Military Academy at West Point, N.Y., successfully defended his Flamingo Open pistol title here with an aggregate score of 2615x2700.
He defeated 300 other shooters entered in the 20th annual pistol tournament.
Benner also set a national record for the .45-cal pistol timed fire match, scoring a 200 with 13 Xs to better the old record of 200 with 15 10s. The victory made it two championships in less than a week for Benner. He won the individual title for the seventh straight year in Tampa, Fla., at the 26th annual National Midwinter Pistol Championships. He also set a new national record in Tampa, firing a 200 and 18 Xs in the center-fire, timed-fired match to beat the old record of 200 and 13 Xx which was held by his teammate, Maj. Ben C. Curtis, of Ft. Benning, Ga.
In the day's first match, the .45-cal Camp Perry Course, Marine 1st Lt. William W. McMillan won with a 296 and 21 Xs. The second event went to Elmer W. Hilden, of the U.S. Border Patrol.
M Sgt James L. Wade, of 6th Army, took the rapid-fire match 197 and six X's. Bill Toney, of the U.S. Border Patrol, won the National Match Course, firing a 293.
Excerpt from the Stars & Stripes, Saturday, March 16, 1957
MTU Marksmen Top Nation's Best In Florida Meets
In the Flamingo Open Pistol Match at Miami, 1stLt. W. W. McMillan swept the slow fire .38 pistol with 191 x 200 with 7 X's, the national match course, .38 pistol, 293 x 300, and the .38 aggregate with a score of 877 with 35 X's.
By firing an overall high aggregate score of 2603 for the match, Lt. McMillan was awarded a hand carved plaque of pistols for breaking 2600 in the Miami match.
Excerpt MCRD Chevron, Friday, March 22, 1957
Grand Aggregate
Rank
Name
Service Branch/Agency
.22 Caliber
Center-Fire
.45 Caliber
Score
1
Huelet L. Benner
U.S. Army
West Point, N.Y.
887-41X
861-34X
867-34X
2615-109X
2
Elmer W. Hilden
U.S. Border Patrol
El Paso, Tex.
-
-
857-24X
2608-90X
3
Wm W. McMillan, Jr.
U.S. Marine Corps
Camp Matthews, Ca.
875-46X
877-35X
851-24X
2603-105X
(Source: The Stars & Stripes, March 16, 1957 and American Rifleman, Vol. 105, No. 4, April 1957)
.45 Caliber Team Championship

| Rank | Service Branch/Agency | Score |
| --- | --- | --- |
| 1 | U.S. Army 'Blue | 1138-38X |
| 2 | U.S. Border Patrol | 1138-38X |
(Source: American Rifleman, Vol. 105, No. 4, April 1957)
.38 Caliber Team Championship

| Rank | Service Branch/Agency | Score |
| --- | --- | --- |
| 1 | U.S. Army 'Blue' | 1152-34X |
(Source: American Rifleman, Vol. 105, No. 4, April 1957)
.22 Caliber Team Championship

| Rank | Service Branch/Agency | Score |
| --- | --- | --- |
| 1 | U.S. Army 'Blue' | 1178-45X |
(Source: American Rifleman, Vol. 105, No. 4, April 1957)
.45 Caliber Championship
Rank
Name
Service Branch/Agency
Score
1
Huelet L. Benner
U.S. Army
West Point, N.Y.
867-34X
2
-
-
-
3
-
-
-
(Source: American Rifleman, Vol. 105, No. 4, April 1957)
.45 Caliber Slow Fire Match
Rank
Name
Service Branch/Agency
Score
1
Elmer W. Hilden
U.S. Border Patrol
El Paso, Tex.
-
(Source: The Stars & Stripes, March 16, 1957)
.45 Caliber Timed Fire Match
Rank
Name
Service Branch/Agency
Score
1
Huelet L. Benner
U.S. Army
West Point, N.Y.
200-13X
(Source: The Stars & Stripes, March 16, 1957)
.45 Caliber Rapid Fire Match

| Rank | Name | Service Branch/Agency | Score |
| --- | --- | --- | --- |
| 1 | James L. Wade | U.S. Sixth Army | 197-6X |
(Source: The Stars & Stripes, March 16, 1957)
.45 Caliber National Match Course

| Rank | Name | Service Branch/Agency | Score |
| --- | --- | --- | --- |
| 1 | William T. Toney, Jr. | U.S. Border Patrol | 293 |
(Source: The Stars & Stripes, March 16, 1957)
.45 Caliber Camp Perry Course - Match 14
Rank
Name
Service Branch/Agency
Score
1
Wm W. McMillan, Jr.
U.S. Marine Corps
Camp Matthews, Ca.
296-21X
2
Hassell M. Upchurch
U.S. Third Army
Fort Bragg, N.C.
296-13X
3
Benjamin C. Curtis
U.S. Army
Fort Benning, Ga.
295-17X
1st
Master
Robert K. Fisher
U.S. Fourth Army
295-12X
1st
Expert
Eugene Harrell
U.S. Army
Fort Riley, Kan.
291-13X
2nd
Expert
Jack L. Farley
U.S. Army
Fort Benning, Ga.
290-9X
3rd
Expert
Dave R. Bullington
U.S. Army
Fort Campbell, Ky.
28-13X
1st
Sharpshooter
Charles T. McGuire
U.S. Army
Fort Campbell, Ky.
283-7X
(Source: The Stars & Stripes, March 16, 1957)
.22 Caliber/Center-Fire Championship - Match 13
(Aggregate of Matches )
Rank
Name
Service Branch/Agency
Score
1
-
-
-
2
Elmer Hilden
U.S. Border Patrol
El Paso, Tex.
1751-66X
3
Huelet L. Benner
U.S. Army
West Point, N.Y.
1748-75X
1st
Master
William A. Hancock

U.S. Army
Fort Benning, Ga.

1736-76X
2nd
Master
David C. Miller
U.S. Army
Fort Benning, Ga.
1736-67X

3rd
Master

Lloyd C. Hummert
U.S. Army
Fort Benning, Ga.
1734-58
1st
Expert
John H. Lingle
U.S. Third Army
Fort Bragg, N.C.
1714-52
2nd
Expert
Shelley Lamb
U.S. Third Army
Fort Bragg, N.C.
1700-45X
2nd
Sharpshooter
Samuel B. McClure
U.S. Army
Fort Campbell, Ky.
166?-20X
(Source: The Stars and Stripes, March 16, 1957)
.38 Caliber Championship - Match 12
Rank
Name
Service Branch/Agency
Score
1
Wm W. McMillan, Jr.
U.S. Marine Corps
Camp Matthews, Ca.
877-35X
2
-
-
-
3
William A. Hancock
U.S. Army
Fort Benning, Ga.
864-32X
2nd
Master
Lloyd C. Hummert

U.S. Army
Fort Benning, Ga.

862-30X
1st
Expert
John H. Lingle
U.S. Third Army
Fort Bragg, N.C.
850-28X
2nd
Expert
Jack L. Farley
U.S. Army
Fort Benning, Ga.
846-27X
(Source: The Stars and Stripes, March 16, 1957 and American Rifleman, Vol. 105, No. 4, April 1957)
.38 Caliber Slow Fire Match
Rank
Name
Service Branch/Agency
Score
1
Wm W. McMillan, Jr.
U.S. Marine Corps
Camp Matthews, Ca.
191-7X
(Source: MCRD Chevron)
.38 Caliber Timed Fire Match

| Rank | Name | Service Branch/Agency | Score |
| --- | --- | --- | --- |
| 1 | - | - | - |
(Source: )
.38 Caliber Rapid Fire Match

| Rank | Name | Service Branch/Agency | Score |
| --- | --- | --- | --- |
| 1 | - | - | - |
(Source: )
.38 Caliber National Match Course - Match 11
Rank
Name
Service Branch/Agency
Score
1
Wm W. McMillan, Jr.
U.S. Marine Corps
Camp Matthews, Ca.
293
2
William A. Hancock
U.S. Army
Fort Benning, Ga.
293-9X
3
Maurice Belisle
U.S. Army
Fort Benning, Ga.
292-9X
1st Master
William B. Blankenship, Jr.
U.S. Army
Fort Benning, Ga.
290-13X
1st Expert
Eugene U. Harrell
U.S. Army
Fort Riley, Kan.
287-7X
3rd Expert
John H. Lingle
U.S. Third Army
Fort Bragg, N.C.
284-12X
3rd Sharpshooter
Samuel B. McClure
U.S. Army
Fort Campbell, Ky.
274-2X
(Source: The Stars & Stripes, March 16, 1957)
.22 Caliber Championship
Rank
Name
Service Branch/Agency
Score
1
Huelet L. Benner
U.S. Army
West Point, N.Y.
887-41X
2
Presely O'Gren
U.S. Border Patrol
El Paso, Tex.
884-38X
3
William C. Joyner
U.S. Border Patrol
El Paso, Tex.
878-38X
1st
Expert
John H. Lingle
U.S. Third Army
Fort Bragg, N.C.
864-24X
1st
Sharpshooter
Samuel McClure
U.S. Army
Fort Campbell, Ky.
846-21X
1st
Marksman
H. J. Zilen
-
792-16X
(Source: American Rifleman, Vol. 105, No. 4, April 1957)
.22 Caliber Slow Fire Match

| Rank | Name | Service Branch/Agency | Score |
| --- | --- | --- | --- |
| 1 | - | - | - |
(Source: )
.22 Caliber Timed Fire Match

| Rank | Name | Service Branch/Agency | Score |
| --- | --- | --- | --- |
| 1 | - | - | - |
(Source: )
.22 Caliber Rapid Fire Match

| Rank | Name | Service Branch/Agency | Score |
| --- | --- | --- | --- |
| 1 | - | - | - |
(Source: )
.22 Caliber National Match Course

| Rank | Name | Service Branch/Agency | Score |
| --- | --- | --- | --- |
| 1 | - | - | - |
(Source: )