1stLt. W. W. McMillan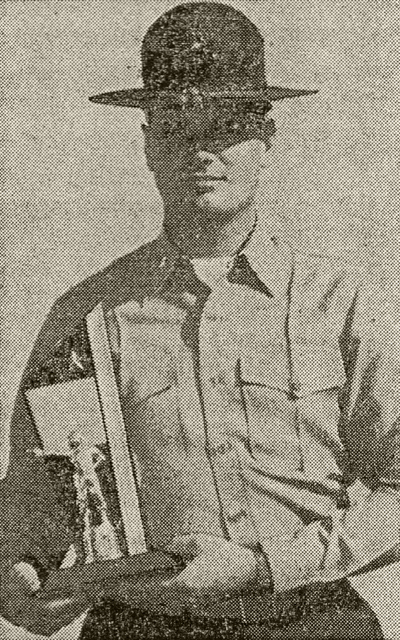 McMillan Leads Depot Pistoleers In District Shoot
Two pistol teams from the Marksmanship Training Unit at Camp Matthews nailed down all available honors at the 11th Naval District Match held at San Diego last week.
First Lieutenant William W. McMillan took first place in the Individual Match, firing a score of 575 with the .45 service pistol, setting a new record for this particular match.
Marksmanship Unit shooters copped all three places behind match-winner Lt. McMillan; Capt. Robert E. Martin taking 1st Master with a 572 score, TechSgt. George Hurt firing a 566 for the 2nd Master spot and Master Sgt. Alphonse Jurado occupying the 3rd Master position with a score of 562.
The Blue Team from Camp Matthews, who twice topped the standing Naval District record, broke their own record in this shoot with an aggregate score of 1120. However, the Unit's other entry, the Gray Team headed by Capt. Martin, outshot the Blue Team with an aggregate of 1127.
MCRD Chevron, Friday, January 25, 1957
Matthews Shooters Blast Competitors
SAN DIEGO - The Marine Training Unit, Camp Matthews, an aggregation of crack shooters selected Corps wide, wrought havoc with the rest of the field at the 11th Naval District's January pistol shoot, fired at the San Diego Police range.
MTU personnel captured the individual open, placed one-two-three in the Master Class, swept the first four places in team competition, and picked up other assorted trophies. Bill McMillan of MTU fired a 575x600 to win the individual open championship.
Unknown Newspaper, January, 1957
.45 Caliber Service Pistol


| Rank | Name | Service Branch/Agency | Total |
| --- | --- | --- | --- |
| 1 | Wm W. McMillan, Jr. | U.S. Marine Corps | 575 |
| 1st Master | Robert E. Martin | U.S. Marine Corps | 572 |
| 2nd Master | George H. Hurt | U.S. Marine Corps | 566 |
| 3rd Master | Alphonse Jurado | U.S. Marine Corps | 562 |
(Source: MCRD Chevron)
.45 Caliber Service Pistol Team

Rank
Service Branch/Agency
Total
1
U.S. Marine Corps 'Gray' Team


R. E. Martin, A. Jurado, M. W. Findsen & J. A. Fowler

1127
2
U.S. Marine Corps 'Blue' Team


W. W. McMillan, Jr., D. D. Thorne, F. W. Filkins & R. O. Jones

1120
(Source: MCRD Chevron)