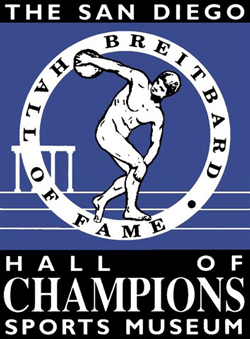 The San Diego Hall of Champions is the nation's largest multi-sport museum, boasting three levels of memorabilia and 70,000 square feet. The museum offers a state-of-the-art theatre, an interactive media center and fascinating displays on the nation's favorite sports.
The Hall of Champions, located in San Diego's Balboa Park, stemmed from the concept of the Breitbard Athletic Foundation. The Breitbard Athletic Foundation was founded in 1946 to promote educational work, to encourage competition, and to recognize significant athletic achievement in San Diego.
The San Diego Hall of Champions recognizes San Diego's outstanding athletic accomplishments and traditions. Amazing athletes such as Ted Williams, Tony Gwynn, Bill Walton, Florence Chadwick and many more are honored at the Hall of Champions. In addition, by enhancing youth involvement, the Hall of Champions has developed not only an outstanding sports museum, but also one that influences young lives.
San Diego Hall of Champions
www.sdhoc.com
The front entrance to the San Diego Hall of Champions
in the old Federal Building, Balboa Park
A closeup of the Breitbard Hall of Fame emblem
The rear side of the old Federal Building
Star Award To Shooter
Lt. William W. McMillan, Jr., USMC, of Camp Matthews, who set a new national record in pistol shooting has been voted the Breitbard Athletic Foundation Star of the Month award for July, it was announced last night.
McMillan scored 2,652 of a possible 2,700 points to break the record of 2,644 which has been standing since 1952. His record was set in July in the South Pacific regionals at the National Rifle Association pistol championships at the San Diego Police Range.
San Diego Union, Sunday, August 25, 1957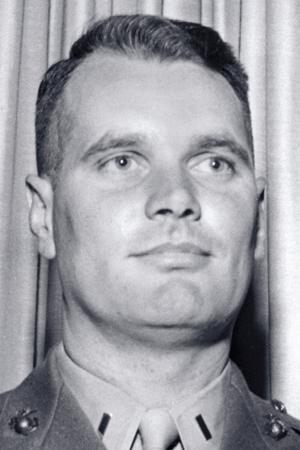 Marine Marksman Honored At Luncheon
Marine marksmanship was highlighted in a presentation at the luncheon when First Lt. William W. McMillan, national pistol champion of the United States, received the Breitbard Athletic Foundation Award.
McMillan, captain of Camp Matthews' pistol marksmanship training team, fired 2,652 points out of a possible 2,700 last July at the police range here to break the 1952 record of 2,644 points and win the championship.
San Diego Union, October 23, 1957
ATHLETIC AWARD
A special feature of the Navy Day Dinner at the U.S. Grant Hotel, Monday, was a presentation by Mr. Robert Breitbard, of the Breitbard Athletic Foundation, of a plaque honoring 1stLt. W. W. McMillan, Depot National Pistol Champion, as Athlete of the month for July. Lt. McMillan broke all existing National pistol records in San Diego competition, July 6, when he fired 2648 points out of a possible 2700.
MCRD Chevron, Friday, October 25, 1957
WINNING WEAPON
1stLt. William W. McMillan, left, of MTU, gives some pistol instruction to Robert Breitbard, president of San Diego's Breitbard Foundation. Lt. McMillan presented the .45, his personal weapon, to the Foundation Wednesday. He used the weapon in setting three national aggregate records in July at San Diego. The pistol will be displayed in a special Armed Forces section of the proposed new San Diego Hall of Fame. (Photo by MSgt. R. E. Ohmd)
MCRD Chevron, Friday, November 15, 1957
Record-Smashing Gift
HOT PISTOL: Marine 1st Lt. William W. McMillan (left) presents his .45 caliber pistol to Robert Breitbard, of the Breitbard Athletic Foundation, as one of the first contributions to the new Breitbard "Hall of Fame" in San Diego. The Leatherneck broke two world pistol records five times with this weapon. He topped the .45 gun aggregate twice - 883 and 884x900 - and the three gun (.22, .38 and .45) aggregate - 2645, 2648 and 2652 - this year.
Navy Times, November 30, 1957
SAN DIEGO 'STAR OF YEAR' WILL BE SELECTED TODAY
San Diego's sports "Star of the Year" will be named today at a luncheon co-sponsored by the Breitbard Athletic Foundation and the chamber of Commerce in the Palm Room of the Grant Hotel at noon.
The city's outstanding athlete will be selected from the 12 winners of the Breitbard Foundation's "Star of the Month" awards during 1957. The public is invited to attend the luncheon.
Candidates for the award include two world's champions, pole vaulter Bob Gutowski and yachtsman Lowell North. Also included among the candidates are four holders of national titles, tennis youngsters Bill Bond and Karen Hantze, swimmer Joe Alkire, and pistol and rifle marksman Capt. William McMillan Jr., USMC.
Several other awards will be presented to San Diego County athletes. The luncheon program will be emceed by O. W. Todd Jr.
San Diego Union, Friday, January 31, 1958
PISTOL KING GETS AWARD
Marine Capt. William W. McMillan Jr., world's revolver-pistol champion, will receive the Breitbard Athletic Foundation's "Star of the Month" plaque for August, it was announced yesterday by Bill Whitney, managing director of the foundation.
McMillan was cited by the foundation for his performance in Moscow in August, when he won the International revolver pistol title in competition with shooters from 32 nations.
Attached to the Marine facility at Camp Matthews, McMillan finished the regular competition in a tie with Vladira Kudrna of Czechoslovakia. In a shootoff, McMillan scored 296 out of 300 for a final winning score of 586.
San Diego Union, Monday, October 13, 1958
Breitbard Announces 'Star Of Year' Today
San Diego's "Star Of The Year" will be named at a noon luncheon in El Cortéz Hotel today and Irvine (Cotton) Warburton will be installed in the San Diego Hall of Fame.
The 12th annual affair is co-sponsored by the Breitbard Athletic Foundation and the San Diego Chamber of Commerce.
Warburton was a football star for San Diego High School and an All-America halfback for USC in 1933, even though he weighed only 148 pounds.
He also was known here as a baseball and a track star. He set a Southern California high school record of 49.1 seconds in the 440-yard run.
Kenneth Bojens, public relations director for Caliente Race Rack, will retrace Warburton's career.
The "Star Of The Year" award will go to one of the 13 athletes who have won the Breitbard Foundation's "Star Of The Month" plaques.
Four football players have qualified. Cleveland Jones of San Diego Junior College was the October winner and Ezell Singleton of San Diego High the November winner. Mike Foglesong of Sweetwater and Gary Mayer of Ramona were co-winners for December.
Representing basketball are Archie Rambeau of San Diego State (January), Tom Shaules of St. Augustine (February) and Miss Jerry Gorsky of NTC (also February.
Sharpshooting has had two winners, Capt. William McMillan (August) and T.Sgt. Pietroforte (September), both of Marine Corps Recruit Depot.
Badminton champion Jim Poole won in April, SDJC track star Bobby Staten in May, MCRD baseball pitcher Earl Wilson in July and golfer Phil Rodgers in June.
All will be present except Shaules, Rodgers and Miss Gorsky. Shaules is attending Seattle University and Rodgers will be competing in the Tijuana Open. Miss Gorsky has been transferred.
Mayor Dail will receive a special scroll award in behalf of Archie Moore as "Fighter Of The Year." Mrs. Albert Kline will receive a similar prize in behalf of her daughter, Mickey Wright, "Woman Golfer Of The Year."
Other special scroll awards will go to Sweetwater coach Tom Parker and Ramona coach Glen Forsythe.
Jack Murphy, sports editor of The San Diego Union, will act as master of ceremonies.
San Diego Union, Monday, January 9, 1959
Captain William W. McMillan (left) Acting Gunnery Sergeant Michael Pietroforte, MTU and Acting Corporal Earl Wilson, Casual Company, H&S Battalion (in civilian clothes at right) receive trophies from Mr. Robert Breitbard Athletic Foundation, January 9, at sports luncheon in El Cortez Hotel.
Brietbard Luncheon Honors McMillan, Pietroforte Today
San Diego's top amateur athlete for 1958 will be announced at noon today at the 12th annual "Parade of Stars" sports luncheon, sponsored by the Chamber of Commerce and the Breitbard Athletic Foundation, at the El Cortéz Hotel.
Among the dozen "Star of the Month" winners vying for the title "Star of the Year" will be Depot Marines Captain W. McMillan, ActSSgt. Michael Pietroforte and ActCpl. Earl Wilson.
Belated Awards
McMillan and Pietroforte, who will receive belated "Star of the Month" sun-gold plaque awards for August and September, respectively, will attend the luncheon along with MajGen. Thomas A. Wornham, Depot Commanding General.
Wilson received the "Star of the Month" award for July after pacing the Devildogs to the California State Semi-Pro Baseball Championship. The award recognized the ace hurler's second no-hit shutout of the season, in which he fanned 19 batters and contributed a three-run homer to whitewash Dale Service, 18-0.
To Donate Jacket
During the luncheon Pietroforte will donate his shooting jacket to the Breitbard Athletic Foundation's sports museum. McMillan has already donated his world-title-winning pistol to the museum.
The Breitbard Foundation honored McMillan for winning the world hand gun championship in a shoot-off against Czechoslovakia Vladimir Kudrna at Moscow after they had tied in regular course firing. Mr. Pistol's achievement in the World Matches at Moscow earned him the Venezuelan Trophy and the title "World Pistol and Revolver Champion."
Impossible Possible
Rifleman Pietroforte was honored by Breitbard for firing the first perfect rifle score ever recorded in the history of the National Rifle and Pistol Championships at Camp Perry, Ohio. His achievement came during the National Service Rifle Championships over the national match course.
Pietroforte won the 1958 National Trophy Individual Championship in competition against some 2000 civilian and military marksmen. His 50-round all-bullseye score included 23 shots in the V-ring.
MCRD Chevron, Friday, January 9, 1959
McMILLAN JULY STAR
Marine Maj. William W. McMillan, stationed at Marine Corps Recruit Depot, has been named Star of the Month of July by the Breitbard Athletic Foundation for this pistol shooting accomplishments.
Maj. McMillan qualified for the United States Olympic pistol team when he won the U.S. Armed Forces pistol competition at Lackland Air Force Base with a record 1,772 out of a possible 1,800 points.
He also placed first in the national amateur championships during the three-day competition. Maj. McMillan, who has served with the Marines for 19 years, won the world pistol championship at Moscow in 1958 and the Olympic Games gold medal in 1960.
San Diego Union, Sunday, August 18, 1968
PARADE OF CHAMPIONS HERE
O. J. Receives Award Tonight
O. J. Simpson, the University of Southern California's Heisman Trophy winner, will head the Parade of Champions tonight at the annual awards banquet at 7 o'clock at El Cortéz Hotel.
Simpson, the Trojan's All-American who was the No. 1 choice in the professional football draft, will be honored as 1968 California Athlete of the Year, an award he won in a poll conducted by the Associated Press.
Numerous other athletes will be honored at the affair, co-sponsored by the Breitbard Athletic Foundation and Greater San Diego Sports Association, scheduled for the International Room at the hotel. The event is open to the public.
Other athletes to be honored are Billy Casper, San Diego's Pro Star of the Year, who led the Professional Golfers Association in money winnings with $205,000: Lowell North, Amateur Star of the Year, who won the gold medal in the Star class sailing event at the Olympic Games at Acapulco; and Charger stars Ron Mix, Gary Garrison and Lance Alworth for their outstanding performances in professional football. Alworth will share pro Star of the Year honors with Casper.
College football standouts Tom Nettles and Fred Dryer of San Diego State will receive awards for their efforts in leading the Aztecs to the No. 1 ranking in college division standings. Nettles set pass catching records for the Aztecs and Dryer was named an All-American at defensive end.
Also to be honored are Rockets' stars Elvin Hayes and Don Kojis, Willie O'Ree and Len Ronson of the Gulls and Janet Newberry, National 16 girls tennis champion and the late Harold (Dutch) Smith, a 1932 Olympic diving champion who was elected posthumously to the San Diego Sports Hall of Fame. North also was elected to the Hall of Fame.
Chuck Coover, retiring football coach at Morse High, will receive the 1968 prep football "Coach of the Year" award from Rev. Patrick Keane, principal of St. Augustine High School which sponsors the award.
Other stars of the month named by the Breitbard Foundation for 1968 performances will also be feted. They include:
Mike Meagher, San Diego State defense star; Dr. Bud Muehleisen, national paddle-ball champion, Mt. Miguel High's Mike Ela, CIF basketball player of the year; Calvin Rayborn, 200-mile Daytona Beach motorcycle champion; Peter McNab, No. 1 player in U.S. Midget hockey.
Peter Schmock, San Diegiuto High, for all-time county prep shot put mark; Patti Hogan, Southern California tennis champ; Jack Henn. All American and U.S. Olympic volleyball star; Marine Maj. William McMillan, member of the U.S. Olympic pistol team; Graig Nettles, for his home-run hitting with Minnesota and John Werhas, Padre third baseman.
San Diego Union, Monday, March 3, 1969
Hall Adds 2 Local Stars
Marksman W. W. "Bill" McMillan and badminton star Marten Mendez will be inducted into San Diego's Sports Hall of Fame at the group's 35th annual Banquet of Champions on Feb. 18.
Lt. Col. McMillan (USMC Ret.), now weapons coordinator for the County Sheriff's department was one of the world's top marksmen, winning a gold medal in the 1960 Rome Olympics and the world title in 1958 at Moscow.
Mendez won the national badminton title in 1949 and 1952 and played on U.S. Thomas Cup teams from '49 to '52.
Their induction brings to 52 the members of the Hall.
San Diego Union, Tuesday, February 10, 1981
McMillan headed for Hall of Fame
SAN DIEGO - Lt. Col. W. W. "Bill" McMillan USMC (Ret.), one of the world's finest marksmen, will become one of the two newest members of the San Diego's Hall of Fame.
The ceremonies will take place at the 35th annual Banquet of Champions next Wednesday night, Feb. 18, at the Town and Country Convention Center.
McMillan, a former resident of Carlsbad who now resides in Del Mar, joins Marten Mendez in the induction ceremonies. Mendez dominated the badminton scene for a number of years.
Their induction will bring to 52 the number of famous men and women athletes whose portraits and records are displayed in the exclusive Hall of Fame section of Balboa Park's Hall of Champions.
McMillan is currently recovering from a much publicized shooting accident eight months ago as the weapons coordinator for the county sheriff's department. He led the balloting for nominees in the current division for those who have competed in the past 25 years. He has been widely recognized for his skill with both rifle and pistol.
As early at 1959 he established an all-time Marine Corps rifle record of 589x600 and followed up by setting a new mark with the pistol.
A year later in Rome his shooting talent brought him the Olympic Games Gold Medal for marksmanship. In 1958 McMillan not only captured the U.S. Armed Forces pistol title but also won the American amateur crown and then went on to Moscow where he wrapped up the world's championship. He is the first marksman to gain admittance to the Hall of Fame.
Mendez, who led the senior division voting, played in the shadow of another Hall of Famer, Dr. Dave Freeman, early in his career but took over the country's best badminton player when he won the nationals in 1949. He repeated a year later and again in 1952.
A product of San Diego city schools, Mendez was a top performer for U.S. Thomas Cup teams in international competition from 1949 through 1952 and subsequently gained fame as one of the game's most capable doubles players.
McMillan and Mendez will be spotlighted along with Stars of the Year, Stars of the Month and others whose efforts in various fields of athletics have earned a civic salute at the Banquet of Champions.
February, 1981