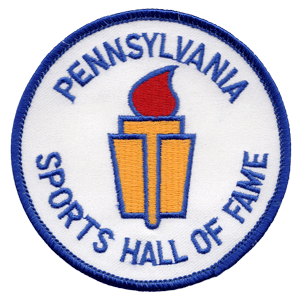 The Pennsylvania Sports Hall of Fame was chartered in 1962. It is the only community based Hall of Fame in the Country and its present twenty-nine Chartered Chapters serve more than 300 communities throughout the state of Pennsylvania. Each year the Pennsylvania Sports Hall of Fame inducts area greats of yesteryear and endeavors to include athletes, administrators, coaches, and those involved in sports medicine and the sports media. The Pennsylvania Sports Hall of Fame also honors the scholastic, collegiate, community service and courageous athlete awards within those communities.
From a group of more than 250 inductees and honorees each year, the Pennsylvania Sports Hall of Fame concludes its calendar year with its annual business session and showcase. This Convention and Induction ceremonial seats ten living and two deceased inductees on its Dais of Honor who are presented with a Gold Inductee medallion with pendant after a rigorous screening and selection process from a highly disciplined governing structure. The ceremonial is hosted on a rotating calendar among the chapters of its Western, Eastern, Northern and Central Regions.
Perhaps one of its Past Presidents best summarized the philosophy of The Pennsylvania Sports Hall of Fame, Inc he responded to a news media inquiry by saying:
"A Hall of Fame is a lot more than an overblown closet for some old relics. It is intended to be a repository for all things great about a sport - its moments, its men and women, its methods. Most of all it is supposed to be about Hall of Famers who define the quality of athletics, who lead the right kind of life, a life of integrity for which there is no compromise."
Pennsylvania Sports Hall of Fame
www.pashof.org
---
PRESIDENT'S MESSAGE
Dear Members and Friends:
Thanks for your support of the Pennsylvania Sports Hall of Fame's East Boros Chapters. We would like you to carry this support a litter farther. We have mentioned on many occasions that the backbone of our success is our advertisers. These merchants, corporations, and companies who year after year, place their advertisements in our Induction Program have helped us to honor athletes since we organized in 1978.
Please patronize them or if they have a business you can't patronize, mention to them that you saw their ad in our program.
East Boros Chapter
Bill Garboden, President
---
PA. SPORTS HALL OF FAME
EAST BOROS CHAPTER
– OFFICERS –
BILL GARBODEN – PRESIDENT
JOHN KRACSUN – 1st VICE PRESIDENT
AL VALKO – 2nd VICE PRESIDENT
ED BRUNK – SECRETARY
JACK HUGHES – TREASURER
RAY YUHAS – RECORDING SECRETARY
– BOARD OF DIRECTORS –
RALPH CHURCHFIELD
KAN KELLY
ROBERT MASSICK
FRANK CORTAZZO
BERNARD LEECH
ELMER KREILING
DOROTHY PEPLOWSKI
RITA BALTRUS
TOM STOREY
DON IRELAND
---
PROGRAM
SATURDAY, OCTOBER 12, 1991 6:30 P.M.
INVOCATION....................................................Father Dave Cillo
St. Colemans
PLEDGE OF ALLEGIANCE..........................................................
WELCOMING REMARKS.......................................Bill Garboden
President, East Boros Chapter
MASTER OF CEREMONIES......................................Don Ireland
Pittsburgh Press Sports writer and sports announcer –– voice of the Pitt Lady Panthers Basketball team. Don heads up the nationally known "Top Cagers" summer basketball league.
INTRODUCTION OF INDUCTEES
&
PRESENTATION OF AWARDS

BENEDICTION..............................................Father Dave Cillo
---
INDUCTEES
HARRY CARR
Graduate of Braddock High School in 1943 where he played tailback in the single wing under Jim Conroy and Dan Rice. After high school he joined the service and as a boxer, compiled a 52 wins and 0 loss career. He became the service lightweight and welterweight champion. He was an assistant football coach at Braddock under Chuck Klausing for four years. He served as an assistant to Bob Teitt for two years. Went to Turtle Creek as an assistant football coach. He became a head coach of the Tri Boro Tigers semi-pro football team. In basketball he served as an assistant from 1956-1968 at General Braddock High, became head coach from 1971-1977 at the Junior High and head coach in 1977-1978. After 34 years of teaching and coaching he retired.
---
JOSEPH (JOEY) CIMINO
Joey attended Swissvale High School where he was a wrestler. As a boxer after his high school years, Joey had over 160 fights, both as an amateur and professional. He also served as a Pennsylvania State Athletic Commissioner for 7 years. Joey has received many awards for his achievements in the sports world. He received a proficiency award for boxing in 1937. In 1968 he was given a Meritorious Service Award form A.A.U.
In 1972 he received a Meritorious Award from Jewish War Veterans. A Distinguished Service Award from the Disabled American War Veterans was awarded to him in 1973. In 1975 he received the Dapper Dan Award in boxing and in 1976 he was inducted into the Western Pennsylvania Boxing Hall of Fame.
---
RICHARD COLLIER
A graduate of Penn Hills High School in 1962. In 1962 he was in the WTAE Junior Bowling tournament and the Pennsylvania Junior Championship Bowling Tournament. Over the years he has won 4 singles, 1 all events and 7 team titles in the Greater Pittsburgh Tenpin Bowling Association Championships. He has been credited with the top ten placements in tournaments such as PBA Eastern Regional, ABC Classic Singles, ABH Masters and Peterson Classic. He has a 200 lifetime average and has more than 200+ series of 700 or more. Rich has 5 perfect 300 games to his credit. He had an 1112 sanctioned 4-game series which was a world record at the time (1978).
Rich was elected to the only Greater Pittsburgh All-Star Team in 1970 and has been honored by the Dapper Dan Club for bowling achievement. His career was brought to an end when he developed arthritis in both hips. Rich is currently employed by North-South Bowl, Inc.
---
BARRY DRISCOLL
Graduated from Turtle Creek High School in 1967. He lettered in basketball and baseball from 1965-1967. He was All-Section basketball player and high scorer in 1967. He played in the 1967 WPIAL Class B boys championship team which is the only one in the school's history. He lettered four years in basketball at McCook Junior College and Marshall University. He was head basketball coach at Scott High School in Madison, West Virginia from 1973 to 1976. He served as Assistant Basketball coach at Swissvale High School from 1977-1984.
Barry played in the West Penn Roundball Classic in 1967. He was a member of the "All Tournament Team" in the 1968 Christmas Tournament in Gardner-Webb, North Carolina. He led McCook Junior College in scoring in 1969. While at Marshall University, he played in the 1972 NCAA tournament.
---
ELROY FACE
This legendary Pittsburgh Press Pirate spent 22 seasons in professional baseball with 15 1/2 years in the major league. He was a member of the 1960 World Champion Pirates who beat the Yankees in the World Series. "Mr. Fireman" won the Fireman Award in the National League in 1962.
Elory shares the record with Walter Johnson, pitching 802 games with one team. He also holds the record for the highest won-loss percentage with 15 or more victories, with an 18-1 record in 1959, a .947 percentage. He also has a record most consecutive wins in relief - 22 straight wins.
Face's major league career shows a record of 104 wins (97 of those in relief), 95 loses, and 193 saves. He pitched 1,375 innings, struck out 877, and had a lifetime E.R.A. of 3.48.
In the annals of Pittsburgh Pirate history, he will always be remembered as "The Fireman."
---
ROBERT J. GARRITANO
As a high school sophomore Bo was cut from the Braddock football team. As a junior and senior, he played for Joe McCune's Scott team, playing on the Scott team to beat Braddock in 1960 – played nose guard and offensive tackle. He made the Post-Gazette all W.P.I.A.L. Team as a senior. He attended Clarion College where he lettered for four years from 1962-1965, playing offensive and defensive tackle. During his junior and senior years, Bo was chosen on the first team of the P.S.C.A.C. District 18 N.A.I.A., and all district defensive tackle, and was honorable mention in N.A.I.A. Little All-American. He was drafted by the Philadelphia Bulldogs and signed with the Atlantic City Senators. He has also been assistant coach at Ford City, Bellevue and Marion High Schools.
---
WILLIAM McMILLAN
He was a graduate of Turtle Creek High School in 1946. He joined the Marine Corps and after twenty-seven years of service, Lt. Colonel McMillan's name has become synonymous with marksmanship. He won his first gold medal with the pistol in 1949. After placing fourth at the National Pistol Championships in 1951, he began to compete internationally. He competed in the 1952 Olympics at Helsinki, Finland and placed seventh. At age twenty-two, this was the first of his six Olympics.
William became a distinguished rifleman and in 1954 he won the World Championship [Host Match] in Caracas, Venezuela. Eventually he fired in six World [Shooting] Championships, winning two. William captured the gold medal at the Pan Am games in 1967. In 1956 and 1957 he was the National Pistol Champion and in 1960, Rome, he captured gold medal at the Olympics in a shootoff between the United States, Finland and Russia.
Throughout the years William has competed in every major rifle and pistol event imaginable. He retired frorm active duty in [1974]. In [1978] the Marine Corps established a National Pistol Shooting Trophy in his honor. The "McMillan Trophy" is awarded to the Marine regular or reserves who attains the highest aggregate score in the National Individual Pistol Matches.
---
ROBERT D. MENZIE
Bob graduated from Scott High School in 1945 where he played center under Joe Kliskey and Johnny Reed. He received a scholarship to Wake Forest where he played in 1945-46.
Menzie then transferred to Theil College and played one year there in 1947. Later he played 2 years for the North Braddock Mustangs.
At age 32 Bob returned to college at the University of Maryland, later teaching and coaching in Howard City, Maryland for three years.
In high school, Bob was chosen as a senior to play for the West Team in the All-Valley Senior All-Star Game in 1944.
---
DWAIN PAINTER
Dwain Painter is in his fourth year as an assistant coach with the Pittsburgh Steelers since joining the staff in 1988. He is a veteran of 27 years of coaching including 6 in high school, 17 in college and 4 with the Steelers. He works with Joe Walton mapping out the Steelers pass offensive.
Painter entered coaching at the high school level at Wall High School in New Jersey from 1965-70. He also coached at the College level at San Jose State College of San Mateo, Brigham Young, and W.C.S.A. His first head coaching position was at Northern Arizona in 1979 where his record was 16-17 in three years. He then became an assistant at Georgia Tech from 1982-85.
Dwain later served as offensive coordinator at Texas in 1986 and Illinois in 1987 before moving to the Steelers in 1988. He was the first quarterback to play for Gateway High School, playing under the legendary Pete Antimarino. He was a member of the school's first graduating class in 1960.
At Rutgers University he played defensive back from 1961-64 and was graduated in 1964.
---
EMIL PANTALONE
(POSTHUMOUS)
A graduate of Turtle Creek High School in 1945, Emil lettered in football, baseball and basketball in 1943, 1944, and 1945. He completed 13 of 18 passes against the great Donora team in 1944. He played defensive halfback for St. Vincent College in 1951. Emil played shortstop fro the Turtle Creek A.O.H. in baseball when that team won the Inter-County baseball championship. He played for the Wilkinsburg Merchants baseball team of the Tri-County League in 1952 and 1953. He was head coach at Turtle Creek High School in football and baseball from 1961 through 1966 after being an assistant for 6 years.
---